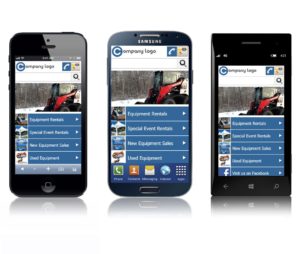 The following post is a guest blog by our partner company, RentalHosting.com, which provides website designs that emphasize being mobile ready and that integrate with your Point-of-Rental® Software.
The rapid growth of smartphones in recent years has dramatically changed the way people use the internet and shop online. According to several reports, searches on mobile devices have now overtaken desktop searches in volume and if your business is not prepared for this major shift, you will lose to your competitors.
While most websites can be viewed on mobile devices, they are still not mobile ready with users still having to zoom in, scroll left & right, read tiny fonts, and figure out how that website works on their smartphone. This often results in a frustrating experience, forcing users to give up and eventually search elsewhere. On the other hand, a smartphone-optimized website will allow for the best viewing of your website on any smartphone with high-quality and relevant results where text is readable without zooming. These mini-websites are often a scaled-down version of your main website, designed specifically for smaller smartphone screens.
In April of this year, Google rolled out a major update to its mobile search algorithm, claiming to boost the ranking of mobile-ready websites and penalizing those which are not optimized. Google has created a Mobile-Friendliness tool that will help you determine if your website is mobile-ready – click here to see how your current website does. Even though the impact of Google's recent algorithm updates may not still be clear, there is no question that having a smartphone-optimized website is an absolute must in today's world!
In designing an effective smartphone-optimized website for your rental store, several other factors are also important to consider:
Is your smartphone website just "mobile" in order to just pass Google's test or does it offer high-quality and user-friendly features for your customers to quickly find what they're looking for?
Does your smartphone website load quickly or do your online customers have to wait 10 seconds before they can see a bloated, non-optimized home page on their phones?
Does your smartphone website offer an online catalog allowing customers to easily navigate through your rental inventory?
Is your online catalog integrated with your rental management software or do you have to spend numerous hours, manually editing your website's catalog every week?
If the answer is "no" to any of the above questions, then consider our award-winning, smartphone optimized websites. Our integrated mobile websites will allow customers to easily browse your entire online inventory by division (rental, sales, etc.), categories and individual records including pictures and pricing. While also being able to easily call your store from their phone, get directions to your store and much more! And because these mobile ready websites are also integrated with your Point-of-Rental Software, your online inventory is always up-to-date!
If you have any questions about integrated smartphone websites, please visit our web design site or call 682-777-3393. We'll get you "mobile-ready" in no time! You can also find out more about our integrated websites at the International Conference in November.